First off, I am asked to pass along this note from our leerless feeder Brenda. (Will you humans ever stop catching this thing? Being but a humble banana, I am of course immune.)

Chambanacon Virus Policy:
Though we will not be checking proof of vaccination, masks are required in all Chambanacon convention space. This does not apply to hallways, lobby, and restaurant. Musicians may remove the mask while performing on stage. Thank you for your patience and understanding.

Now, friends and fellow peels, the time has come, to make the announcement that nobody wants to hear. This, our 52nd, will be the last Chambanacon. This is not a decision that was made lightly. We're more sorry to see the end than anyone, but it's time.

Even though some people volunteered to help, key positions remain unfilled. This is our last contract with the hotel, and given the onslaught of high school football booster organizations that will be beating down the hotel doors for the next four years when their championships move to Bloomington/Normal, we don't anticipate the possibility of continuation, even at a new hotel in yet another city.

Frankly, folks, we don't have the time or the energy to keep pushing this boulder uphill. We'd rather see Chambanacon go out on a high note than dwindle into obscurity. So, we're throwing in the towel and closing the doors after this year's convention.

Any monies left after this year will go into trust. Who knows ... maybe some group will step forward with a working plan and a full committee to restart the ol' gal. If that happens, great! If that doesn't happen, the leftover funds will be donated to ISFIC who have supported our convention for many years.

So, if you've been putting it off saying, "Someday I'll get to a Chambanacon" then this is your last chance. Come and help us send the convention off with a Big Bang.
Special Guests:
Writer Guest of Honor
Juanita Coulson
has been coming to Chambanacons for as long as it's been around. She's an official peel-carrying
Big Banana
, and we're pleased as all get out that she's agreed to fill the hole in our line-up as well as the hole in our hearts. Juanita turns 91 in February, and has seen it all: the Golden Age of Fandom; the birth of filk music and fanzines; the the writing business; the publication business; the Hugo Awards; the Big Heart Award; the Pegasus Awards; the Filk Hall of Fame...
Although small in stature, she's a giant walking among us. And we're thrilled to honor her at the last Chambanacon.
---
Ghosts of Honor
Wilson "Smooth Bob" Tucker
,
Andy Offutt
, and
Gene Wolfe
were more than just important presences at Chambanacon. Prolific writers all, though of very different styles, they graced the halls and panels and banquets of our convention for (mostly) many years; making us laugh, and making us think.
•
Bob
was a special friend to this gathering, one of the Old Souls of this thing that became
Skiffy
, and over the years
MC'd
nine Chambanacon banquets.
•
Andy
holds the distinct, distinguished, and utterly unextinguishable record of being the only
Writer GoH
at Chambanacon for a Pearl's worth of years; of course largely because we're a relaxacon, dammit, and it was too much work to find another guest, but also because he was just
that
good at explaining how we'd all enjoy next year even better.
•
Gene
came to us ... not long enough ago, and leaving way too soon ... but much to our reward. We were overwhelmed that a Skiffy Grand Master such as he came to consider us his home convention, but of course welcomed him with open arms.
Join us in remembering these, and other keystones of Chambanacon.
---
Fan Guests of Honor
The Scherer Family
With a cumulative 180 years of attendance, the Scherer name rings through the annals of recorded Chambanacon history. Beginning late last millennium, disturbed from their slumber, the elder Scherers Fran and Steven rose from the lost fields of Mahomet, covering several leagues in mere hours to attend the legend that became known as Chambanacon 7.
Their attendance elevated the dissolute tribute to hedonistic revelry into the realm of myth, with stories becoming ever more humble and understated with each successive generation (in order to assist listeners with suspension of disbelief). The Scherers quickly recognized a good thing and began showing up in droves, with sons Paul and Mark beginning in 1980 and 1982, respectively. They eventually rounded out the team with Karen, Freya, and Iris and began racking up collective years at an unimaginable rate.
If you see them, raise your glass in tribute and empty it in self indulgence. If you see just one of them, it's also time for another shot.
---
Music Guest of Honor
Bill Roper
has been a capstone of the fannish and filkish communities for decades. He's no stranger to the creation, recording, production, sales, and performance of very fine music. Without his company, Dodeka Records, much of filk simply wouldn't be out there. He's produced numerous cds, his own and others, received three Pegasus Awards, and was inducted into the Filk Hall of Fame in 2005. And he's been coming to Chambanacon since a (fairly) wee lad. We're proud to have him take the spotlight on the Chambanacon stage.
---
Toastmistress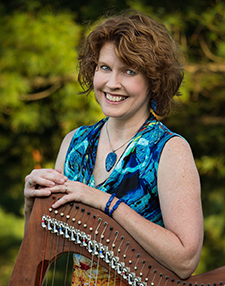 Jen Carlson Midkiff
is an award-winning singer/songwriter, band member, choir director, music teacher and an easily spotted regular as sf and fantasy conventions around the world. ("See the stunning person with the great big harp?
That's Jen!
") She holds Bachelor's and Master's Degrees in Music to go along with her Professional Educator's license, and has brought and taught her love of music to hundreds of school kids. She started down this musical path at a young age, one of the founding members of the Indianapolis Children's Choir, and has toured the world with other choirs. She currently performs as harp/vocalist with a traditional Irish trio, Alair, and harp/bass/vocalist for the respected and much loved folk/filk/rock band Wild Mercy. Her second solo album is due to be released "any day now"; and we're hoping in time for Chambanacon.
---